Technical Introduction to the UPI 1000NG™ Generator
Description
UniGen Power, Inc. introduces the UPI 1000NG™ – the world's smallest and lightest one megawatt power generation system. Developed specifically for gaseous fuels. This liquid cooled, radial engine delivers outstanding electrical efficiency of over 46% and emissions compliance at low operating costs. With standard enclosure and sound attenuation, advanced monitoring and controls, fuel agility, and optional mobility package, the UPI 1000NG™ sets a new standard in mobile and distributed power generation.
COMPONENTS
Advanced Radial Configuration 3000TA™ Engine
The proprietary design 3000TA™ has been engineered for robust industrial performance utilizing advanced combustion technology and state-of-the-art alloys, coatings, and tolerances.
The power plant delivers high-load capacity, extended maintenance intervals, and long service life while retaining all the advantages inherent in its radial design: lightweight, high horsepower, low internal friction, and excellent operating efficiency, liquid-cooled, turbocharged, with fewer parts and bearings, the 3000TA's unique combination of features enables the UPI 1000NG™ to deliver unprecedented mobility, durability, fuel efficiency, and emissions compliance.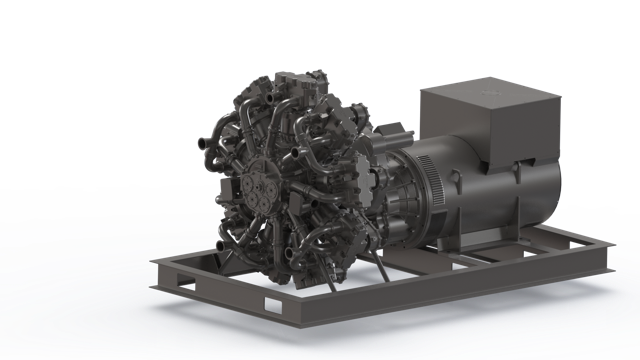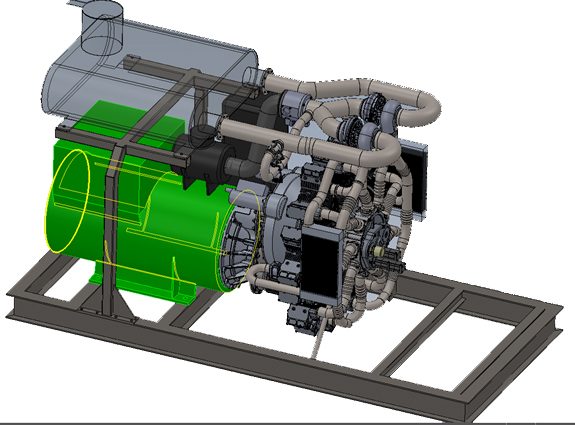 Three Phase Synchronous Generator
With over 100 years of manufacturing excellence, the manufacturer is recognized as a leading supplier of generators and electric motors to power generation, industrial, and marine sectors. Latest technologies and highest quality materials assure reliable performance under difficult operating conditions and long life of electrical components and housing.
UPI Proprietary Electronic Control Module
Microprocessor-based diagnostic, monitoring and control system integrates engine and alternator controls in a single system employing CAN bus technology. Operator-friendly instrumentation is displayed on-board through 17" color touch screen monitor or on remote computer via Ethernet connection or proprietary software. Controls are suitable for both parallel and nonparallel applications, with other gensets and with utility service. Paralleled gensets may be accessed through a single interface. The system is designed for EMC compliance and constructed to meet the most rugged duty cycles for gensets.
Full Turn-Key Functionality
The UPI 1000NG™ is spec'd, quoted and shipped as a fully operational unit for most environments and applications. Optional equipment may be ordered to provide additional functionality for specific uses.
Worldwide Voltages
All standard voltage worldwide at 50Hz and 60HZ: 220V 3-phase, 277v 3-phase, 477v 3-phase, and higher.
Low Operating Cost
Fuel cost of natural gas significantly less than diesel. $1.63 for 1 million BTUs of natural gas vs. $16.30 for 1 million BTUs of diesel fuel.
Maintenance cost minimized by simplified fuel and intake systems, advanced filtration, and reduced fluid quantities.
Overhaul cost and time reduced due to extended service intervals and unique engine design permitting improved access to major engine components and independent cylinder service.
Status & Diagnostics
Comprehensive monitoring of engine and generator performance with predictive maintenance diagnostics. Worldwide network access available.
Fuel Agility
Natural gas (pipeline, CNG, LNG)
Biogas, landfill gas, flare gas
LP gas (propane & butane)
Ethanol
Emissions Compliance
Inherently lower and more easily controlled emissions than competitive diesel engines. Meets all applicable current and scheduled EPA, CARB and EU regulations for spark-ignition engines.
Superior Mobility
Lightweight and compact, the UPI 1000NG™ is the smallest and lightest 1MW power source available. At one-third the size and one-fifth the weight of comparable diesel gensets, the 1000NG™ easily transports to remote sites or disaster relief locations.
Full Authority Remote Control
Full control of engine and generator functions at a remote computer via Ethernet connection and proprietary software.
Engine: UPI 3000TA™
9-cylinder, radial configuration, liquid cooled, 1155kW, constant 2300 rpm, twin turbocharged with / aftercoolers
Fuel System
Low pressure fuel system requires only 2.0 to 5.0 PSI
Single fuel calibration curve (methane or propane)
Gas train, gas pressure interlock, air cleaner
Charging and Start System
100-amp alternator for battery charging and controller system power.
Twin 24V starting motors
Lead acid batteries with racks and easy access provision
Lubrication System
Full flow oil filtering, 30-gallon reservoir, synthetic oil, electric pre-lube pump, multi-stage oil pressure and scavenging pump, shut down scavenging pump, positive gearbox lubrication, low level oil detection, oil cooler
Cooling System
High volume liquid cooled, dual circuit thermal management system
Heavy duty automated motor and pump system
Exhaust System
Fully isolated replaceable bed catalyst and integrated residential grade muffler
Complete stainless-steel piping and fittings.
Parallel Enabled
Allows parallel operation of multiple gensets. Provides paralleling data, functions and protection, also frequency synchronization and voltage matching.
Electronic Control Module
Integrated spark timing control, turbocharger control, speed governing, cylinder knock control, time-stamped full diagnostics reporting system
Complete engine data display capability
Genset and engine monitoring and protection including emergency stop, fail to start shut down, permissive start / fuel presence shut down, engine vitals monitoring
Complete alternator protection and data display
Complete logs for operational data, including start attempts, starts, running hours and kW hours
Enclosed Unit
Protective weather enclosure with sound attenuation provides maximum 55 to 65 dBA @ 6 meters.
Alternator
Three phase, 4 pole, continuous duty, class H insulation, auxiliary wound, IP 23, synchronous generator